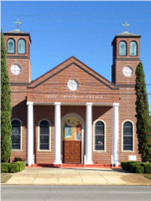 Welcome one another, therefore, just as Christ has welcomed you, for the glory of God." - Romans 15:7
Welcome to the Annunciation Greek Orthodox Church of Pensacola, Florida. Through this web site, we are pleased to be able to introduce you to that same worship and fellowship as it is expressed in the life of our Parish. If you are a new member of our parish, or are considering membership, these web pages will acquaint you with what our parish offers to those who give it support and sustenance; to those who already belong to the church, we hope they will provide you with the assurance that your sacrificial offerings are received with profound respect, and are utilized to maximum effectiveness. They will, in any case, enable you to make the informed decisions that are necessary for a meaningful relationship with your church!

Church Office: 850-433-2662
Office Hours: Monday - Friday 10:00am - 2:00pm
Welcome to our website! We hope you are able to visit and worship with us soon.
The Annunciation Greek Orthodox Church is under the jurisdiction of the Metropolis of Atlanta, under the Greek Orthodox Archdiocese of America which is an Eparchy of Ecumenical Patriarchate of Constantinople.
Worship & Church Events Schedule
Monday, March 18 – Saturday, March 23
Fr. Matthew will be on vacation
Sunday, March 24 – Sunday of St. Gregory Palamas
8:45 am Orthros
10:00 am Divine Liturgy
Altar Group: St. John Chrysostom
1-year memorial for Alice Toney
1-year memorial for Voula Varvouris
5:30 pm Great Vespers
Monday, March 25 – Annunciation of the Theotokos
8:30 am Orthros
9:30 am Divine Liturgy
5:00 pm Great Compline
6:00 pm Orthodox Discussion Group
Tuesday, March 26
10:30 am Bible Study: The Gospel of St. Mark
Wednesday, March 27 – Saturday, March 30
Metropolis Council & Vicars Meeting in Atlanta, GA
Sunday, March 31 – Sunday of the Holy Cross
8:45 am Orthros
10:00 am Divine Liturgy
All altar boys are invited to serve.
12:00 pm Annunciation Luncheon
---
The Annunciation Greek Orthodox Church Hall and related facilities are owned and operated as an integral part of the ministries of Annunciation Greek Orthodox Church and are subject to the traditions, dogma and Holy Canons of the Holy Greek Orthodox Faith. We reserve the right to reject any request for the use of any such facilities. In addition, any uses that violate any applicable laws, ordinances, regulations or statutes are expressly prohibited.