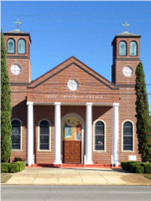 "Welcome one another, therefore, just as Christ has welcomed you, for the glory of God." - Romans 15:7
Welcome to the Annunciation Greek Orthodox Church of Pensacola, Florida. Through this web site, we are pleased to be able to introduce you to that same worship and fellowship as it is expressed in the life of our Parish. If you are a new member of our parish, or are considering membership, these web pages will acquaint you with what our parish offers to those who give it support and sustenance; to those who already belong to the church, we hope they will provide you with the assurance that your sacrificial offerings are received with profound respect, and are utilized to maximum effectiveness. They will, in any case, enable you to make the informed decisions that are necessary for a meaningful relationship with your church!
---
Parish Festival
The 56th annual Pensacola Greek Festival will take place on October 9 - 11, 2015. The festival draws more than 20,000 visitors from Northwest Florida and Southern Alabama over a 3 day weekend of delicious food, live music and Greek culture.
About the Annunciation Parish
Our Presiding Priest is Rev. Fr. Matthew Carter.
Located in Escambia County, Florida, The Annunciation Greek Orthodox Church has served the greater Pensacola area for 100 years.
The first Greek immigrants that came to Pensacola were seaman that manned sailing vessels in the mid to late 1800s. Some of the crew settled here as fishermen. Gradually the stream of immigrants from Greece increased. These new citizens made their living in the fishing industry, groceries, restaurants and other small businesses. The first Greek Orthodox Church was built in 1910 at the corner of Wright and Reus Street and was the home to this parish until 1954 when the present church on Garden Street was constructed. The Hellenic Center was built in 1950 and the Fr. Leftheris Education Building was completed in 1961. The church was consecrated by the late Archibishop Iakovos in 1973. Our parish is an active community of 150 families of various ethnic backgrounds.
The Annunciation Greek Orthodox Church is under the jurisdiction of the Metropolis of Atlanta, under the Greek Orthodox Archdiocese of merica which is an Eparchy of Ecumenical Patriarchate of Constantinople.

Online Chapel
Upcoming Events
Wednesday, October 7th
5:00 pm Introduction to Orthodoxy
Worship Schedule
Sundays: Orthros (Matins): 9:30 AM | Divine Liturgy: 10:00 AM
Weekdays: Orthros (Matins): 9:30 AM | Divine Liturgy: 10:00 AM
For information on our weekday services please contact the Church office at (850)433-2662 between the hours of 9:00 AM - 3:00 PM, Monday through Friday.