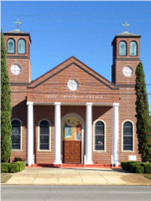 Welcome one another, therefore, just as Christ has welcomed you, for the glory of God." - Romans 15:7
Welcome to the Annunciation Greek Orthodox Church of Pensacola, Florida. Through this web site, we are pleased to be able to introduce you to that same worship and fellowship as it is expressed in the life of our Parish. If you are a new member of our parish, or are considering membership, these web pages will acquaint you with what our parish offers to those who give it support and sustenance; to those who already belong to the church, we hope they will provide you with the assurance that your sacrificial offerings are received with profound respect, and are utilized to maximum effectiveness. They will, in any case, enable you to make the informed decisions that are necessary for a meaningful relationship with your church!

Church Office: 850-433-2662
Office Hours: Monday - Friday 10:00am - 2:00pm
Welcome to our website! We hope you are able to visit and worship with us soon.
The Annunciation Greek Orthodox Church is under the jurisdiction of the Metropolis of Atlanta, under the Greek Orthodox Archdiocese of America which is an Eparchy of Ecumenical Patriarchate of Constantinople.
Worship & Church Events Schedule
*We will be putting up our Christmas decorations from Sunday, December 3 – Friday, December 8; anyone who is able to volunteer should contact Heidi Silivos at (850) 509-4140 for more information.
Sunday, December 10 – 10th Sunday of Luke
8:45 am Orthros;
10:00 am Hierarchical Divine Liturgy
*His Eminence, Metropolitan ALEXIOS will be presiding; following the Hierarchical Divine Liturgy, we'll have a Blessing of the Columns and Ribbon-cutting Ceremony.
Tuesday, December 12 – St. Spyridon
9:00 am Orthros; 10:00 am Divine Liturgy
*We will be collecting toys for the Toys For Tots program. Please bring your donation of new, unwrapped toys to the church hall by Thursday, December 14. Thank you for your generosity!
Friday, December 15 – St. Eleuthelios
8:30 am Orthros; 9:30 am Divine Liturgy
Sunday, December 17 – 11th Sunday of Luke
8:45 am Orthros; 10:00 am Divine Liturgy
Tuesday, December 19
10:30 am Bible Study
+Nativity Services+
Friday, December 22
9:00 am Royal Hours
Sunday, December 24 – Eve of the Nativity (Christmas Eve)
8:45 am Orthros; 10:00 am Divine Liturgy;
5:30 pm Great Vespers
Monday, December 25 – Nativity of Christ (Christmas Day)
9:00 am Orthros; 10:00 am Divine Liturgy
Christ is Born!
Glorify Him!
Sunday, December 31 – Sunday before Theophany (New Year's Eve)
8:45 am Orthros; 10:00 am Divine Liturgy
---
The Annunciation Greek Orthodox Church Hall and related facilities are owned and operated as an integral part of the ministries of Annunciation Greek Orthodox Church and are subject to the traditions, dogma and Holy Canons of the Holy Greek Orthodox Faith. We reserve the right to reject any request for the use of any such facilities. In addition, any uses that violate any applicable laws, ordinances, regulations or statutes are expressly prohibited.